Solidarity Street Gallery
October 1, 2020
---
Looking for a an opportunity to be out and about, on a beautiful fall weekend, and enjoy some meaningful art created by a highly diverse group of artists for these unique times? Not via ZOOM, but "for real," in a COVID-safe, family-friendly and community oriented environment?
Come to the SOLIDARITY STREET GALLERY, a new street-side arts festival centered around justice, equity and solidarity.
WHEN:
Thursday and Friday, October 1 & 2,  5 – 9 PM
Saturday, October 3, 1 – 10 PM
WHERE:
Payne Avenue, down from Maryland Avenue to Hopkins Street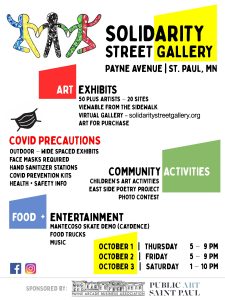 WHY:
The SOLIDARITY STREET GALLERY brings together a diverse group of artists to the East Side of St. Paul to express their feelings on racial justice and equity. In the wake of the murder of George Floyd in Minneapolis this summer and the global COVID-19 pandemic, the SOLIDARITY STREET GALLERY seeks to build meaningful connections between the community and local artists in a time of social isolation, through the unifying force of art. This COVID-conscious, outdoor event allows community members and visitors to socially distance while walking down Payne Ave and engaging with a variety of art exhibitions.
FACE MASKS ARE REQUIRED
To ensure the safety of community members and artists, masks are required at the event. There will also be COVID kits being handed out that include PPE. Hand sanitation stations and a health information station will be positioned along Payne Avenue.
SOLIDARITY STREET GALLERY_Poster_v1.2
---
More News