Our Organization
District Five serves as a civic resource; supporting residents and communities to increase self-determination and influence over local, city and regional decisions that affect our lives. Organized as an independent nonprofit organization, District Five mobilizes area residents and businesses to build safe, strong, welcoming and connected neighborhoods and ensures community participation in Saint Paul's planning and decision making processes. The Council is governed by a community- elected 17-member volunteer Board of Directors.
Statement on committees:
At its November 2016 meeting, the Payne Phalen District Five Planning Council Board of Directors decided to change its committee structure.  Specifically, the Board chose to handle Land Use, Transportation, and Environmental issues at regular Board meetings, thus eliminating the need for separate committees for these areas.  The Board took this action for several reasons.  First, during our current process of creating a District Plan, the Board thought it would be useful to integrate the work of these committees more closely with the work of the Board.  Second, at a time of significant transition for the organization, it makes sense to reevaluate what sort of committee structure will work best for the long term to meet our goals of broad community involvement and input from all the people of District Five.  In the short term, this means having the Board as a whole take up the work of these committees to better understand the issues and facilitate our internal process for creating a more inclusive structure.
The Board realizes that change is difficult and recognizes that some community members felt a sense of loss over these changes in long-held committee structures.  We continue to welcome all community members to our monthly public Board meetings where they can express their views about Land Use, Transportation, Environmental, or any other issues.  We commit to listen to them.
District Five Programs, Projects and Initiatives include:

Neighborhood Safety: Community Policing, Safety Information, Auto Theft Prevention, Block Clubs, National Night Out
Recycling Education and Outreach: Recycling education, household hazardous waste reduction, re-use and waste reduction education, promoting citywide Drop-off events (formerly Clean-Ups) and local neighborhood beautification projects.
Neighborhood Beautification: Community Gardening, Boulevard Gardens, Volunteer Projects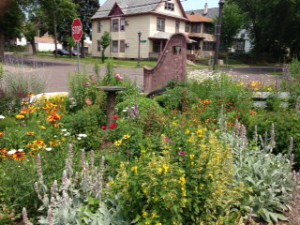 Community Building: Gatherings, learning workshops, cross cultural organizing and dialogues.
Projects with our community partners:
Union Job and Resource Fair annual event
Cross Cultural Dialogues to Action
Intergenerational Dialogues
St. Paul Data Mapping Project
St Paul Community Engagement
Our Services
The Payne-Phalen Community Council is a great one-stop shop for residents to obtain a variety of information and resources. We are here to support you in working to improve our neighborhood. Our office can be your 1st call for help when you need resource help, recycling bins, information, or would like assistance in solving an issue and creating something great in your neighborhood.
Residents should feel free to call us at 651-774-5234 with questions about problem properties, zoning, neighborhood crime, community plans, proposed development, starting and maintaining block groups, city process, vacant buildings, and other community or city related issues.
District Five can  assist you with finding help with the city, county, state, and other government agencies. Our primary work focuses on land use, planning, neighborhood safety, and connecting community residents to each other, to networks, information, and resources. We represent the community's  interests at city council and other city hearings.   We hold public meetings for the community to give input on local business licensing, land use, and other planning needs. There are many ways to get involved in the work of your District Council.
Our Good Neighbor Values

Our organizing approach must become broadly inclusive of all residents in District Five.
We  identify and celebrate the strengths and improvements that occur and our focus will be on creating solutions. Practical action will shape our agenda.
District Five resources and staff time are conserved and applied when neighbors have organized collectively. The Council seeks to support individuals who are ready to organize collective solutions to community problems. Help is offered to all, yet we will not do for others what they can do for themselves.
Whether homeowner, tenant or homeless, all D5 residents  organize together to improve our quality of life.
We act to counter racism or ethnocentrism expressed through word, act or intent.
We make decisions through democratic process.
People and institutions who profit from owning, maintaining, or perpetuating problems in our neighborhoods cannot expect our support.
As much as possible, problems are addressed at the level at which they occur.