>
Union Job & Resource Fair – 6th Annual
Union Job & Resource Fair – 6th Annual
Community-wide Event
May 19, 2022 * 3:00 - 6:30 PM
1330 Conway St, St. Paul, MN 55106, in the parking lot of the Electrical Industry building.
---
Join us for the sixth annual Union Job & Resource Fair on May 19, 2022.
We know statistically union members earn better wages and benefits than their non-union member counterparts. This unique job fair brings together potential workers and these well-paying jobs where workers' rights are protected. At the fair, job seekers will have the opportunity to connect with potential employers, union apprenticeship programs, non-profit and community support agencies.
This year's event will be held outdoors in a cordoned-off section of the parking lot of the IBEW Local 110 at 1330 Conway St, St. Paul. In the event of rain, it will be moved indoors.
For more information, including a list of employers and resource providers, can be found at https://eastsidefreedomlibrary.org/events/sixth-annual-union-job-and-resource-fair/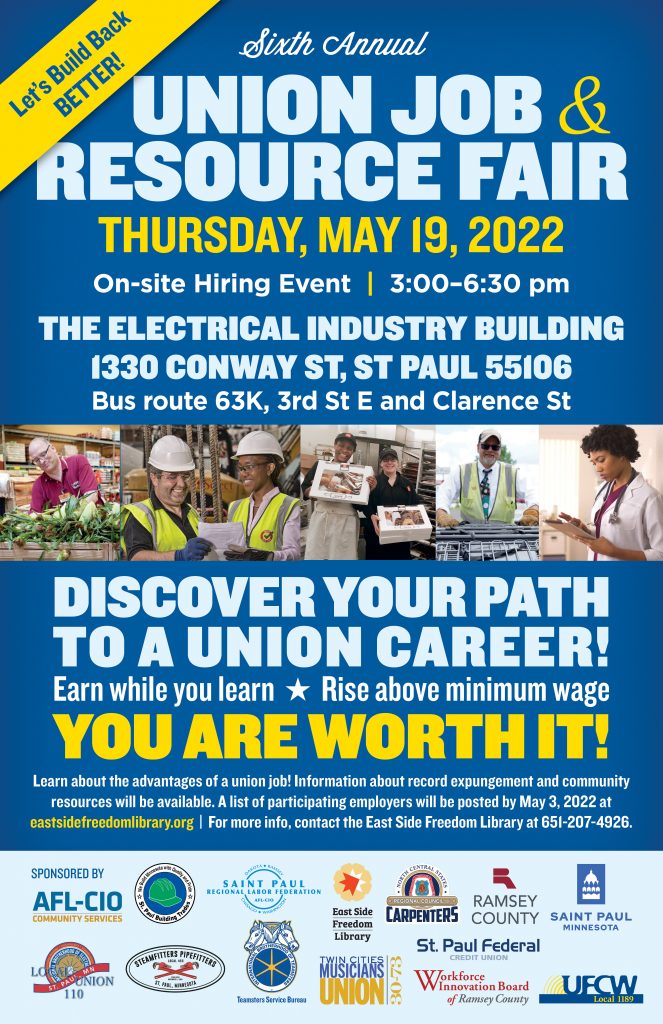 ---
More Events