>
State of Our City Summit 2019
State of Our City Summit 2019
Community-wide Event
March 14, 2019 * 6:00-8:00 PM
Harding High School, 1540 East 6th Street, Saint Paul 55106
---
Please join Mayor Melvin Carter as he presents the 2019 State of Our City Summit on Thursday, March 14 at 6:00 PM at Harding High School in Saint Paul.
The event is free, kid-friendly and open to the public. Please register in advance to help us accommodate all attendees. RSVP online by clicking here or call our office at 651-266-8510.
Let your friends know you're going by sharing about the Summit on Facebook here. Help us spread the word by using the hashtag #ImagineOurCity.
Event Schedule:
6:00 PM – Check-in & Refreshments
6:15 PM – Program Begins: Mayor Carter Delivers 2019 State of the City Address
7:00 PM – Summit Policy Workshops
8:00 PM – Adjourn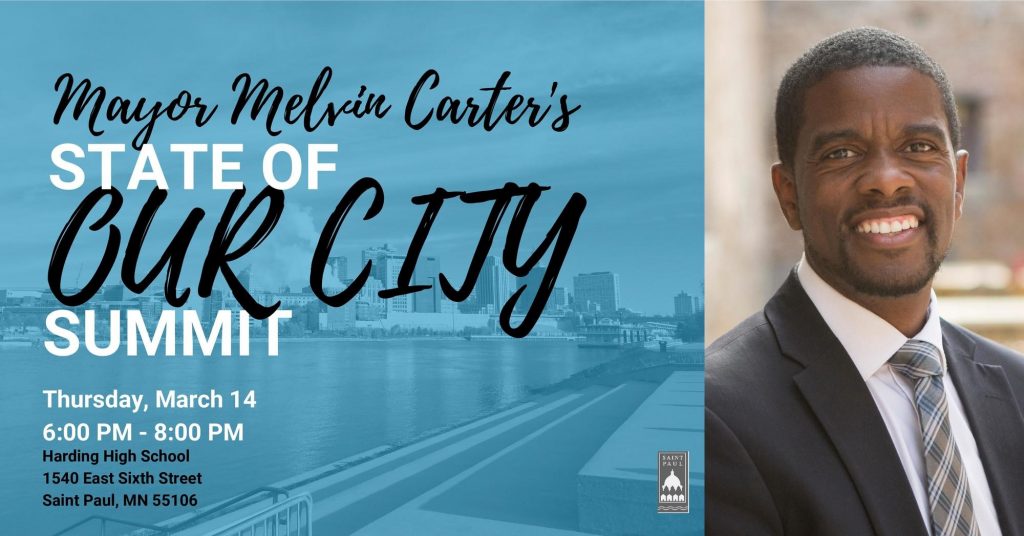 ---
More Events