Go with the Flow
Community-wide Event
September 1, 2021 * 5:30 - 7:00 PM
Swede Hollow Park, 665 Greenbrier Street entrance
---
Join the Lower Phalen Creek Project to Go With The Flow of Phalen Creek and learn more about this amazing waterway and their efforts to resurface it! Meet at Swede Hollow Park, the entrance at 665 Greenbrier Street, and trace the path of Phalen Creek into Wakáŋ Tipi / Bruce Vento Nature Sanctuary. Bring sunscreen, a water bottle, and comfortable walking shoes.
Register for the event at https://bit.ly/3A7Qj82.
For more details https://www.lowerphalencreek.org/events.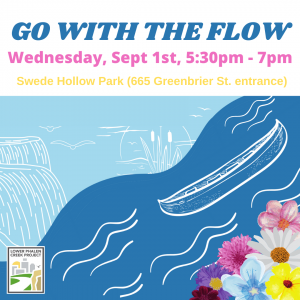 ---
More Events