Neighborhood Honor Roll
The Saint Paul Neighborhood Honor Roll Volunteer Awards are held each year to recognize those volunteer leaders who improve our neighborhood and City with sustained community leadership and accomplishment.  Each of Saint Paul's 17 Neighborhood District Councils annually nominate up to 3 honorees for this Citywide award.  In District Five, the Board of Directors annually nominates its honorees each November.
A citywide celebration is held in January of each year to recognize all award winners.  Each award winner will have their name engraved on the Neighborhood Honor Roll plaque that hangs outside of the City Council Chambers at City Hall.
The Payne-Phalen honorees for 2017:
Ryan Huseby
Ryan Huseby, co-owner of Tongue in Cheek, offered the restaurant for the District Council fundraiser the past couple years, and the restaurant provided gift cards for fundraising at the Annual Meeting. He and his co-owners all live on the East Side, and built their restaurant around sustainability and humane farming. Ryan served on the Community Planning & Economic Development Committee in 2015 & 2016.
Don Lorr
Since 2014 Don has been Railroad Island (RRI) Neighborhood Group chair with Mike Pennig by his side. RRI worked on cohesive neighborhood signage & banners, Police Training facility public art, Lafayette crosswalk safety; partnered with City, State & County officials, organizations, churches and businesses to connect to neighbors and build a shared vision that reflects all ideas and hopes. They are excited about new Rivoli homes and neighbors, Karibu Grocery & Deli, and the Overlook.
Eddie Wu
Eddie of Cook St. Paul always advocates for the community, and wants his diner to reflect the neighborhood. He offers it for Pop-Up Dinners, when different chefs create a new menu. He buys produce from Urban Roots, and produce left at year-end is used for a dinner event where the youth are servers. After Hurricane Harvey, he drove to Texas, served hot meals to firefighters & first responders, and organized a fundraiser for a neighborhood.
Watch a video of the  January 29, 2016 Honor Roll Award Ceremony.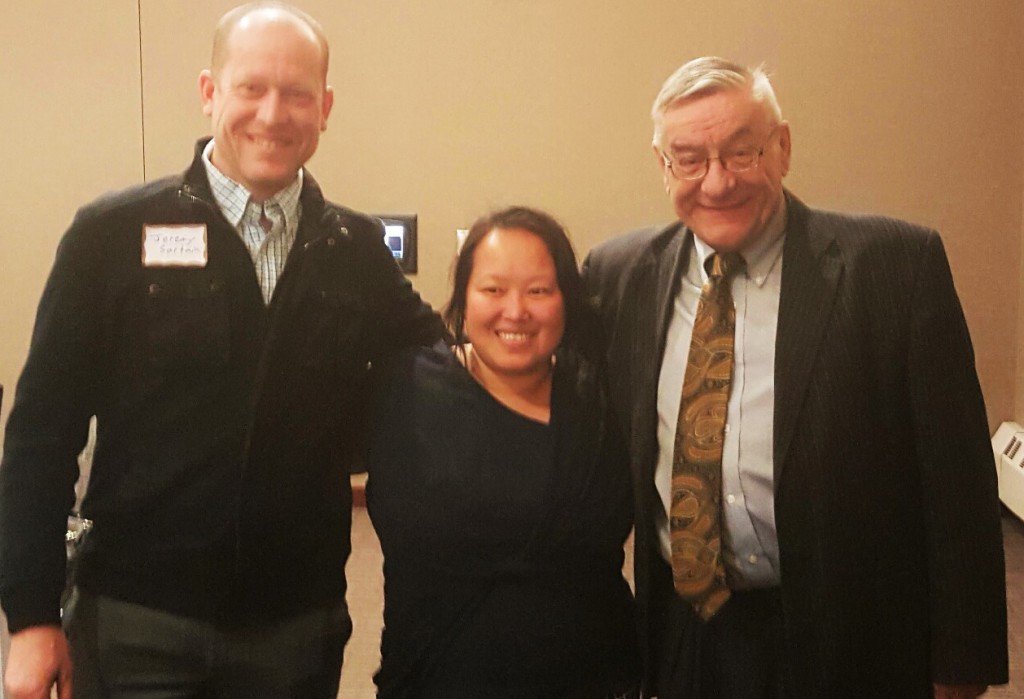 Payne-Phalen honorees for 2015 include (L to R): Jeremy Sartain, Mai Vang and Al Oertwig.
Payne-Phalen 2015 Awardees
Al Oertwig — Active Neighborhood Advocate and Leader
Al Oertwig combines his vast experience with a grassroots zeal and a feel for neighborhood issues. In addition to chairing numerous school groups both in Minnesota and nationally, Al has served as community organizer in Summit-University, VP of the Southwest Area District Council (14/15) and was the first Secretary of Mac- Groveland. While chair of District 5, Al has advocated for a number of publically funded projects including Arlington Hills Center, while navigating challenging issues and debates. Al is currently active in re-invigorating PABA with their Harvest Fest/Parade. His signature laugh is well known and his goodwill expands the reach of District 5.
Jeremy Sartain – Rolling out restorative justice
When this longtime resident and cyclist had his bikes stolen, he turned a bitter experience into something sweet. Instead of prosecution, he sought redemption, helping the family whose members had stolen the bikes fix their own. That expanded to an area-wide effort to collect, fix, and donate bikes to more than 100 East Side youth. He also became involved in fund-raising efforts for a family that lost a daughter and all belongings in a fire.
Mai Vang – Compassion and vision in action
Mai is an active East Side resident who is known for her great heart and enthusiasm for improving our neighborhood. She generously has donated time and resources to fundraise for people in need. This year she took on the honorable challenge of fundraising for people who needed help to get back on their feet. She sells her signature eggrolls to raise funds that help people make ends meet, pay the rent, the electric bill etc. As a neighborhood leader, Mai models resiliency and vision for what individuals can accomplish. She has organized and mobilized volunteers to pick up litter and beautify our neighborhood along the business corridors. Mai is someone who makes a difference!