Our Work
District Five is fueled by the energies and visions of people who live and work in the neighborhood!  The organization is a volunteer-governed grass-roots organization with the broad mission to improve the Payne-Phalen neighborhood.  This is achieved through community outreach and engagement; and implementing strategies and activity to organize for safe, strong, welcoming and connected neighborhoods.  District Five welcomes all ideas to improve, support and develop our community.
Our work centers around local development and planning, neighborhood safety, volunteer projects, and community building that engages, educates and empowers all residents.  The Council is particularly interesting in issues related to organizing for equitable and sustainable community development.
Community Planning and Development
The District Planning Council provides resident oversight of all area planning and plan implementation for the community. This includes a large
area plan outlining the communities need for land, housing, crime prevention, and programming. We also work on small area plans and commercial corridor plans. Our goal is to help people create a vision for the community and see that vision into reality. Our work around community and land use is completed primarily thru the
CPED Committee, which meets the 1st Tuesday of each month. This is a participative process and all community members are welcomed to attend and participate in meetings.
Neighborhood Safety  and Crime Prevention
Our staff can provide resource planning and  support to block groups, and assist new or emerging leaders to start a neighborhood group or block club.  We can provide a variety of crime prevention materials at community meetings and at  our office.
The Saint Paul Police Department creates regular  crime updates.  District Five can help neighbors solve issues and learn more about crime prevention and community building strategies that get results. We periodically hold educational community forums on a variety of crime prevention topics and support neighbors who tackle issues or work to beautify their neighborhood.
Recycling Bins and Composting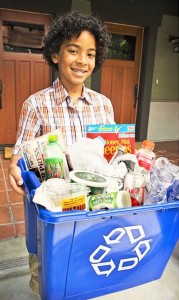 We are your one-stop shop for recycling bins, and information. We provide the bins free of charge to area residents. We also have current pick-up schedules and brochures explaining allowable and non-allowable items. For more information call Robin Horkey in our office at 651-774-5234.
District Five can provide you with composting bags and information.
Make your next big party or community event a Zero-Waste event. We loan out free  ClearStream containers with information.
For a complete listing of resources see "Where do I get a Blue Bin?"
Resident Involvement Opportunities
Residents become involved with Payne Phalen District Five Planning Council in a variety of ways:
Participate or lead your block group
Plant a garden or your boulevard
Host a National Night Out party with your neighbors
Get involved in our Cross Cultural Action organizing
Run for seat on the District Five  Board of Directors
Join a District Five Committee or Task Force
Get help to solve a neighborhood issue or work to create a resource
Work on a special creative project or be our liaison to a collaborative project.
Call our staff to find out other current volunteer opportunities